Introduction
Tennis, a sport known for its strategic gameplay and intense battles on the court, If you're a tennis fan, you might have wondered, "What is a Walkover in Tennis ?". In tennis, a walkover (W.O.) occurs when a player wins a match without competing on the court, usually due to the opponent's absence. This intriguing phenomenon arises when the opponent withdraws from the match before it begins due to injury, illness, personal reasons, or code of conduct violations. While walkovers may seem like easy victories, they have implications that extend beyond the immediate result. In this comprehensive article, we will delve into the meaning, rules, statistics, and the broader impact of walkovers in tennis.
Key Highlights
Understanding Walkovers: Concept of a walkover in tennis, which occurs when a player wins a match without having to play due to their opponent's inability to compete.
Reasons for Walkovers: Various reasons that lead to walkovers, such as injuries, illnesses, or disqualifications, which prevent one player from participating in the match.
Impact and Significance: The impact of walkovers on tournaments, rankings, and players' careers. It emphasizes how walkovers can provide rest for players but also affect draw reshuffling and ranking points.
What is a Walkover in Tennis
A walkover is essentially a default victory granted to one player when their opponent is unable to compete. This situation can occur due to several reasons, including injuries, illnesses, unforeseen personal circumstances, or disqualifications. The term "walkover" originates from horse racing, where a single dominant horse would "walk over" the finish line uncontested. In tennis, the concept signifies a win achieved without any resistance from the opposing player.
Why is it Called a Walkover?
The term "walkover" finds its origins in horse racing. In one-horse races, where one steed was notably superior to its competitors, the rider of the dominant horse would casually "walk over" the finish line, securing victory without any challenge. Over time, this term transcended horse racing and was adopted in various sports to denote a situation where one side effortlessly wins due to the absence of strong opposition. In tennis, however, the term takes on a distinct meaning, describing a match outcome resulting from an opponent's inability to compete.
Rules and Scenarios for Walkovers
Tennis organizations, such as the Association of Tennis Professionals (ATP) and the Women's Tennis Association (WTA), outline specific rules and scenarios for walkovers to ensure fair play and maintain the integrity of the sport. Walkover rules may slightly vary based on the tournament level and governing body, but the essence remains the same.
Types of Walkovers in Tennis
In the realm of tennis, various reasons prompt players to choose a walkover, a situation where they concede a match without competing on the court. The most prevalent reason, by a substantial margin, is injury, especially at the highest levels of professional tennis. Nonetheless, even at the lower echelons of the game, players might opt for a walkover if they find themselves grappling with overlapping tournament schedules and the prospect of prize money.
Injuries:
Injuries remain the most common trigger for walkovers in tennis. Players might soldier through a match even after sustaining an injury, particularly if the incident occurred late in the game or the surge of adrenaline acts as a natural pain reliever. Yet, as the initial elation of a match victory wanes, players might recognize that their injury has worsened and could severely impede their performance in forthcoming matches. In such scenarios, players often make the calculated decision to withdraw from their upcoming match, prioritizing their well-being over immediate success.
Scheduling Conflicts:
An alternate and less frequent way for players choosing a walkover comes from conflicts in tournament schedules. This scenario becomes more pertinent in recreational or lower-level professional tournaments, where players' schedules can collide due to simultaneous events. An illustration of scheduling overlap might involve one tournament starting before a player's ongoing tournament concludes. As a result, players caught in such scheduling crossroads might opt to withdraw from the later stages of their ongoing tournament to participate in the initial rounds of a more esteemed event scheduled for the subsequent week.
While this strategy is not commonly employed and may attract disapproval within the tennis community, the allure of prize money and ranking points can steer players toward opting to withdraw from one tournament in favor of participating in another.
What is a Walkover vs. Default in Tennis: The Key Differences
Tennis, a sport governed by strict rules and codes of conduct, encounters situations where players are unable to continue a match. "Walkover" and "default" are two terms that often surface during tennis tournaments, signaling a player's inability to compete. While both terms share this common thread, they hold significant distinctions. In this article, we'll delve into these differences and uncover what they mean for tennis players.
Default in Tennis:
A default transpires when a player is compelled to forfeit a match due to rule violations or unsportsmanlike behavior. Instances leading to a default encompass tardiness, code of conduct breaches, or failure to adhere to the prescribed dress code. There are cases when players might be injured but reluctant to withdraw from the match, leading to a default.
When a default occurs, the player automatically loses the match, and their opponent advances to the next round. The match is recorded as "DEF" or "default" on the tournament scoreboard. A default can cast a substantial setback on a player's career, involving fines, suspensions, or even potential bans from future tournaments.
Walkover in Tennis:
A walkover materializes when a player wins a match because their opponent is unable to participate. This could be due to injury, illness, or other uncontrollable circumstances. Unlike a default, a walkover is not a result of rule violations.
Upon receiving a walkover, the player progresses to the next tournament round without needing to play a match. The match result is logged as "W/O" or "walkover" on the scoreboard or point penalty system, notably in grand slam tournaments.
Distinguishing Walkover and Default:
The primary distinction lies in the underlying reason behind a player's inability to compete. Walkovers generally arise from circumstances beyond a player's control, like injury or illness, while defaults stem from player behavior or rule violations.
Another disparity arises from the outcomes – a player awarded a walkover advances to the next round without playing, whereas a player who wins by default secures the win but doesn't progress.
Walkover vs. Withdrawal in Tennis: Differentiating Key Decisions
Tennis, a sport that demands physical prowess, skill, and tactical acumen, occasionally necessitates difficult choices for players. Amidst the battle on the court, situations like "walkovers" and "withdrawals" can arise, introducing unique dynamics to the game.
Walkover vs. Withdrawal: Decoding the Distinctions
A "walkover" signifies a scenario where a player emerges victorious in a match without having to engage in play. This transpires when the opposing player is incapable of participating due to reasons like injury, illness, or disqualification. In this context, the player unable to compete is deemed to have given their opponent a walkover.
Conversely, a "withdrawal" transpires when a player exits a match after its commencement. This action can be attributed to multiple factors, including injury, illness, or personal circumstances. In such instances, the player who withdraws concedes the match, and their adversary is declared the victor.
Significance of Walkovers and Withdrawals in Tennis:
The impact of walkovers and withdrawals extends to tennis tournaments and players' rankings. When a player secures a walkover, they progress automatically to the subsequent round, affording them valuable rest – an asset particularly crucial in later tournament stages. In contrast, a withdrawal can prompt a rearrangement of the tournament draw, potentially requiring the opponent to partake in an additional match for advancement.
In terms of rankings, both walkovers and withdrawals hold the potential to influence a player's ranking points and overall standing. A player who withdraws from a tournament anticipated to yield substantial ranking points might witness a decline in their ranking. Similarly, a player garnering a walkover in a tournament where a formidable opponent was anticipated may acquire ranking points sans the need for a match.
Walkovers and withdrawals are frequent incidents in the realm of tennis, causing significant effects on tournaments, rankings, and the trajectories of players' careers. While these decisions can be arduous for players, they sometimes become indispensable to safeguard their health and well-being. As ardent supporters of the sport, acknowledging and respecting these determinations, along with their repercussions, adds depth to our understanding of the game's intricate dynamics.
ATP & WTA Impact on Walkover in Tennis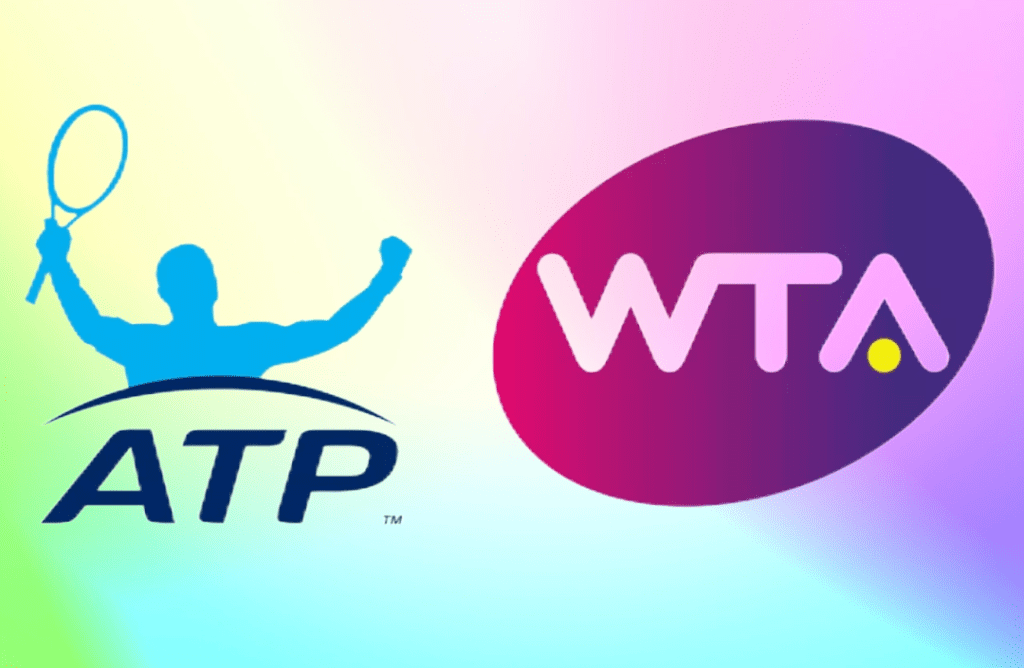 Both the Association of Tennis Professionals (ATP) and the Women's Tennis Association (WTA) oversee professional tennis for men and women respectively. They define and handle walkovers in similar ways. According to ATP and WTA regulations, a walkover occurs when a match doesn't start due to the losing player being sick, injured, or subject to Code of Conduct penalties before the match's first serve.
While the ATP awards ranking points as if the match were played, the WTA doesn't award full points for walkovers. Tournaments take precautions by allocating runner-up prize money to both finalists if the final match cannot be played.
Exploring the Impact of Walkovers on Tennis Ranking Points:
In tennis, players earn ranking points based on their performance in tournaments, which includes walkover victories. However, the effect of a walkover on ranking points varies. This article explores the intricate details, shedding light on points, prize money, and how it compares to related terms like retirement, default, and withdrawals.
In essence, grasping the distinctions between walkover and default is crucial for comprehending the nuances of tennis tournaments and appreciating the challenges players face in maintaining their performance amidst unforeseen circumstances.
Impact of Walkover on Players
The impact of a walkover win in tennis extends beyond the scoreboard, influencing a player's preparation and mindset. While a walkover may appear as an easy victory on paper, its effects can be complex. Firstly, the absence of an actual match deprives players of a valuable warm-up opportunity, hindering their ability to adjust to court conditions and their opponent's style in subsequent rounds. This lack of familiarity can be a disadvantage.
Moreover, a walkover can have psychological implications. Tennis relies heavily on momentum and confidence, and a walkover disrupts this delicate balance. Players who receive a walkover might feel unprepared for the next round, struggling to regain their focus and intensity. The abrupt shift from anticipation to an unexpected win can create doubt and impact a player's mental state.
In terms of ranking points, players usually receive the points allocated for the round they advanced to due to the walkover. While a walkover might grant points, its true impact lies in the challenges it poses to a player's physical and mental readiness for the next match. Tennis remains a sport where success encompasses both skill and mental resilience, and a walkover can disrupt this equilibrium
Tennis is a game where rules are important, and sometimes players can't continue a match. When this happens, two terms come up: "walkover" and "default." They both mean a player can't play, but they're different in important ways. Let's look closer at these terms and what they mean for players.
Statistical Analysis of Walkovers
In professional tennis, walkovers are relatively uncommon but can occur due to various reasons. It's worth exploring a few notable walkover instances in the tennis world to understand their impact on players and the sport.
Rafael Nadal vs. Bernard Tomic (2014 Australian Open):
In the first round of the Australian Open, Bernard Tomic retired due to injury, granting Rafael Nadal a walkover victory. This gave Nadal extra time to rest and recover before progressing in the tournament.
Serena Williams vs. Maria Sharapova (2019 French Open):
In a highly anticipated match, Serena Williams received a walkover victory over Maria Sharapova in the fourth round due to Sharapova's shoulder injury. The walkover allowed Williams to advance in the tournament without having to face a tough opponent.
Novak Djokovic vs. Jarkko Nieminen (2010 Australian Open):
Jarkko Nieminen withdrew from his match against Novak Djokovic due to injury, resulting in a walkover victory for Djokovic. This event impacted Djokovic's tournament journey and rest between matches.
Other Sports Related Article: How long is a basketball game
Conclusion
In the dynamic world of professional tennis, a walkover represents a unique occurrence that can shape a player's performance, mindset, and tournament progression. Understanding the rules, scenarios, and implications of walkovers provides insights into the challenges and opportunities players face on and off the court. From a walkover's impact on rankings and scheduling to its effect on a player's psychological preparation, this phenomenon demonstrates the multifaceted nature of the sport. While a walkover may seem like a straightforward victory, its ramifications ripple through the competitive landscape of tennis, contributing to its intriguing narrative and showcasing the resilience of athletes in the face of unforeseen circumstances.