Baseball jerseys aren't just for the ballpark – they've become a trendy fashion statement. Whether you're a die-hard sports fan or simply looking to add some sporty flair to your wardrobe, learning how to wear a baseball jersey with style can elevate your outfit game. In this guide, we'll break down the art of rocking a baseball jersey in various chic and effortless ways.
Baseball game jerseys have transcended the sports arena to become a fashion staple. With their relaxed fit and sporty charm, these jerseys offer endless possibilities for creating stylish ensembles.
Choosing the Perfect Baseball Jersey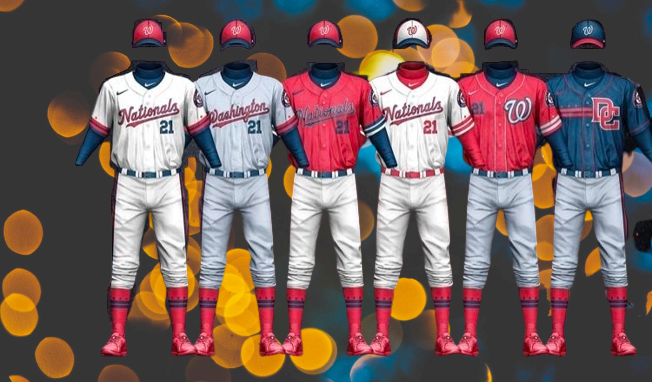 Selecting the ideal baseball jersey is an art of team spirit and style. Consider your favorite team's colors and logo for a personalized touch. Choose between authentic player jerseys for an authentic feel or replicas for budget-friendly options. Focus on fit – opt for a comfortable size that allows easy layering.
Whether you prefer a vintage look or a modern design, ensure the jersey reflects your fashion sensibilities. From game day to casual outings, the perfect baseball jersey style effortlessly combines fandom and fashion, making a statement that resonates with both your team loyalty and individuality.
Wear a Baseball Jersey And Pair it with Denim
Achieve an effortlessly stylish look by pairing your baseball jersey with denim. You can buy this all stuff from offline or online store . The laid-back vibe of the jersey meets the timeless appeal of denim, creating a winning combination that exudes casual coolness. Whether it's jeans, shorts, or a denim jacket, this pairing is a go-to for relaxed yet fashionable attire.
Classic Blue Jeans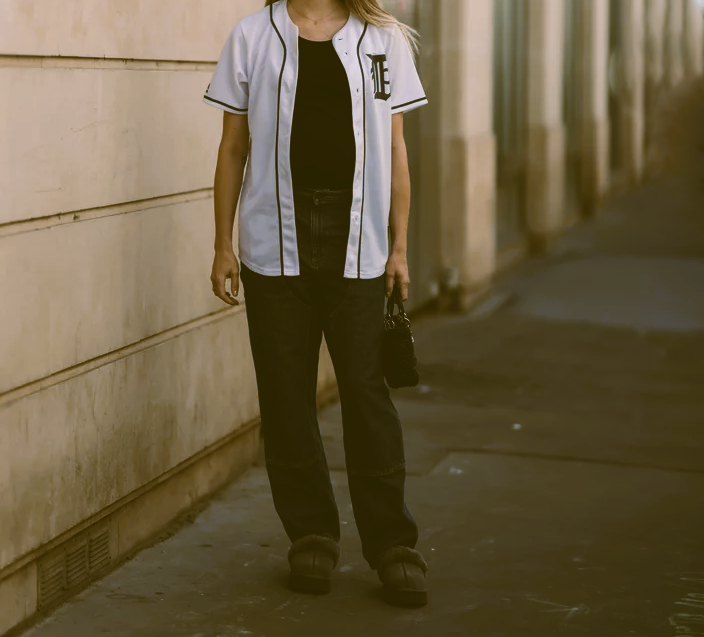 Pair your jersey with classic blue jeans for an easygoing and timeless look. This combo is perfect for casual outings and weekend hangouts.
Distressed Denim Shorts
For a laid-back summer vibe, team your baseball jersey with distressed denim shorts. Add sneakers, and you're ready for a day of fun in the sun.
Sporty Chic: Dressing Up with a Skirt
Elevate style with a sporty chic twist—pair a baseball jersey with a trendy skirt for a fusion of athleticism and elegance. This edgy combination balances casual comfort and fashionable flair. Choose skirt lengths and colors that complement the jersey, then complete the look with sneakers for urban cool or heels for added sophistication. Redefine your wardrobe with this dynamic trend, showcasing a confident and unique sense of style.
Layering Magic: Styling with Jackets
Unleash your fashion creativity by layering a jacket over a baseball jersey. Elevate casual sportswear with this edgy combo. Experiment with bomber jackets for a street-smart look or denim jackets for a timeless twist. The juxtaposition of athletic vibes and outerwear chic creates an intriguing ensemble. Embrace versatility by mixing textures and colors, turning your baseball jersey style statement piece. Whether you opt for sneakers or boots, this trend is all about embracing your unique style while staying effortlessly cool.
Bomber Jackets for Urban Vibes
Throw on a bomber jacket over your jersey for an effortlessly cool urban appearance. This combo is perfect for a night out with friends.
Leather Jackets for Edgy Appeal
To channel your inner rebel, pair your jersey with a leather jacket. This edgy ensemble is a great way to make a bold fashion statement.
Accessorize Right: Hats and Sneakers
Enhance your baseball jersey style with the perfect accessories – hats and sneakers. Elevate your casual look with a trendy baseball cap, showcasing team pride or adding a pop of color. Opt for sleek sneakers to complement the sporty vibe, balancing comfort and fashion.
Whether it's a classic snapback or a dad hat, the right headwear adds flair to your ensemble. Pairing with stylish sneakers completes the sporty chic aesthetic, making it perfect for urban outings or casual hangouts. Embrace the winning combination of hats and sneakers to express your individuality and exude effortless cool.
Mixing and Matching: Creating Versatile Looks
The beauty of a baseball jersey style lies in its versatility. Explore different ways to mix and match your jersey for unique outfits.
Over a Graphic Tee
Create visual interest by layering your jersey over a graphic tee. This adds a dynamic element to your ensemble and allows you to showcase your personality.
Under an Open Button-Up Shirt
For a preppy-meets-sporty look, wear your jersey under an open button-up shirt. This combination offers a fresh take on the classic jersey aesthetic.
Confidence is Key: Rocking Oversized Jerseys
Oversized fashion is all the rage, and baseball jerseys are no exception. Embrace the oversized trend by opting for a jersey that's a size or two larger for an effortlessly stylish appearance.
Caring for Your Baseball Jersey
To ensure your jersey retains its charm, follow care instructions. Machine wash with care, and avoid excessive heat to maintain the integrity of the design.
FAQs
1. Can I wear a baseball jersey to a formal event? While baseball jerseys are inherently casual, you can experiment with layering and accessories to create a more polished look. However, formal events may call for more traditional attire.
2. Can I wear a baseball jersey in colder weather? Absolutely! Layer your jersey over a long-sleeved shirt or turtleneck, and add a cozy jacket for warmth.
3. Can I tuck my baseball jersey into high-waisted pants? Yes, tucking your jersey can create a more tailored and put-together appearance. Experiment with different tucking styles to see what suits you best.
4. Are there any rules for wearing a baseball jersey with patterns? Pairing a patterned jersey with neutral basics can help balance the overall look. Remember, fashion has no strict rules – feel free to express yourself!
5. Can I wear a baseball jersey to the office? While a traditional office setting may not be the best fit for a baseball jersey, you can consider more casual work environments or "Casual Fridays" to showcase your sporty style.
Conclusion
To Wear a Baseball Jersey in style is more than just showing team pride – it's a chance to showcase your fashion-forward sensibilities. By exploring various pairing options and embracing your personal style, you can confidently rock a baseball jersey in any setting.